Global CC Transfers
Closing Knowledge Barriers for Community College Students
For students studying foreign languages, Global Affairs, International Relations, or related fields, early opportunities to study and work abroad can be incredibly beneficial. International experience provides an opportunity to develop language skills in an immersive environment, maneuver new cultural landscapes, and engage with those of different backgrounds. Transfer students often don't come in contact with these opportunities until after they arrive at a four-year institution. This is a problem because, by that time, they've already missed the window to apply to a number of such programs. One example includes the Fulbright UK Summer Institutes, which are targeted at college freshman and sophomores.
With just two years left of school, transfer students often have to be incredibly strategic to fit in the study abroad and international internship opportunities that they are still eligible for. For those hoping to apply to graduate school abroad or to obtain competitive funding for such study through programs like the Rhodes, Truman, Marshall, Fulbright, or Schwarzman scholarships, they often have less than a year to prepare. The Global Community College Transfer Network seeks to catch these students early on before this bottleneck of international opportunities occurs.
MENTORING
Our mentorship program is designed by CC transfers for CC transfers. We pair community college and transfer students with mentors from the professional world.
RESOURCE DEVELOPMENT
We connect with opportunity providers and advocate for CC/transfer students. Our database of scholarships, resources, and opportunities is in development.
PUBLIC PROGRAMMING
We host free, public events such as our summer institute to expose CC/transfer students to global education, scholarship, and career opportunities.
"I really enjoyed the workshops because it reminded me that I am not limited to post-graduate opportunities as a community college transfer. I can apply for virtually anything in the foreign service space, and being a transfer does not hinder that whatsoever."
2021 Mentorship Program Participant,  Berkeley City College, UC Berkeley '22
"I learned so much about the different academic and professional opportunities that are available for students in my field. My mentor was amazing; he always made sure that I knew about resources and kept me motivated throughout the summer. Additionally, this program made me feel more optimistic and confident in my ability to excel at the university level."
2021 Mentorship Program Participant, Chabot College, UC Berkeley '23
"I really liked all the information provided as I knew nothing about all these programs and opportunities going in. The assignments were also really helpful for me to understand what is needed to apply for many of these programs. The recordings were very nice to have. I liked everything about this program!"
2021 Mentorship Program Participant, West Valley College
"I love the community college connection that my mentor and I shared which helped me feel less discouraged about being non-traditional in pursuit of an IR career."
2021 Mentorship Program Participant, Lonestar College
"I really enjoyed having a professional mentor to help me navigate the policy and government arena. [My mentor] highlighted a lot of positive and negative aspects of the field I would have otherwise not been aware of had I not spoken to her."
2021 Mentorship Program Participant, Cerritos College, UC Davis '22
"The program was a great opportunity to be supported and challenged, which I felt from the team and my mentor. I loved the seminar-style meetings! The group of people you gather is always so inspiring. I also appreciated opportunities to meet with the team and keep up with other mentees. I wish I met with my mentor more, but she made it clear that the door remains open and I intend to keep in touch!"
2021 Mentorship Program Participant, Durham Technical Community College, University of North Carolina Wilmington '22
"I most liked that there was a variety of speakers and topics we covered. I learned about programs I didn't even think I'd be interested in pursuing initially, but now I am."
2021 Mentorship Program Participant, City College of San Francisco, UCLA '23
Raising CC/Transfer Voices
Overcoming barriers and paving new paths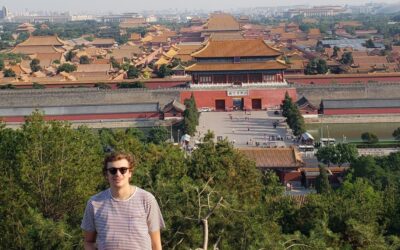 From being a CC student in London to a Berkeley Bear in Beijing
From Pasadena City College to Yale and Oxford
Let's Have a conversation