Author: Uzair Pasta, 2023 CCGAF Fellow
Community: A nine-letter word that encapsulates so much. The Community College Global
Affairs Fellowship was a place where dreams met opportunity. It was where our hopes and
potential collided, and where our futures seemed to become clearer.
A collective journey embarked upon by a group of 30 students from across the United States, the Fellowship was the platform for self-development. Our paths converged at the Royal Sonesta in Washington, D.C., transcending travel modes and distances. Swiftly, we were thrust into the realm of international relations and diplomacy – a whirlwind of engagements with the UN, Department of State, World Bank, and many more.

The Community College Global Affairs Fellowship (CCGAF) in Washington DC marked a
pivotal chapter in my life as it became the key to deciphering the enigma that is DC – an
experience that dismantled the mysteries of networking and exposed the human essence within
international relations. The CCGAF not only broadened my horizons but also introduced me to
kindred spirits, imparting the profound meaning of kinship.
Though networking initially seemed an intimidating prospect at the start of CCGAF, the program revealed a truth: networking isn't confined to the exchange of business cards and professional connections. It is the art of cultivating authentic relationships, discovering common ground across diverse backgrounds. The Fellowship provided an array of opportunities to interact with professionals, mentors, and policymakers – a realm where networking flourished, and authentic bonds were formed.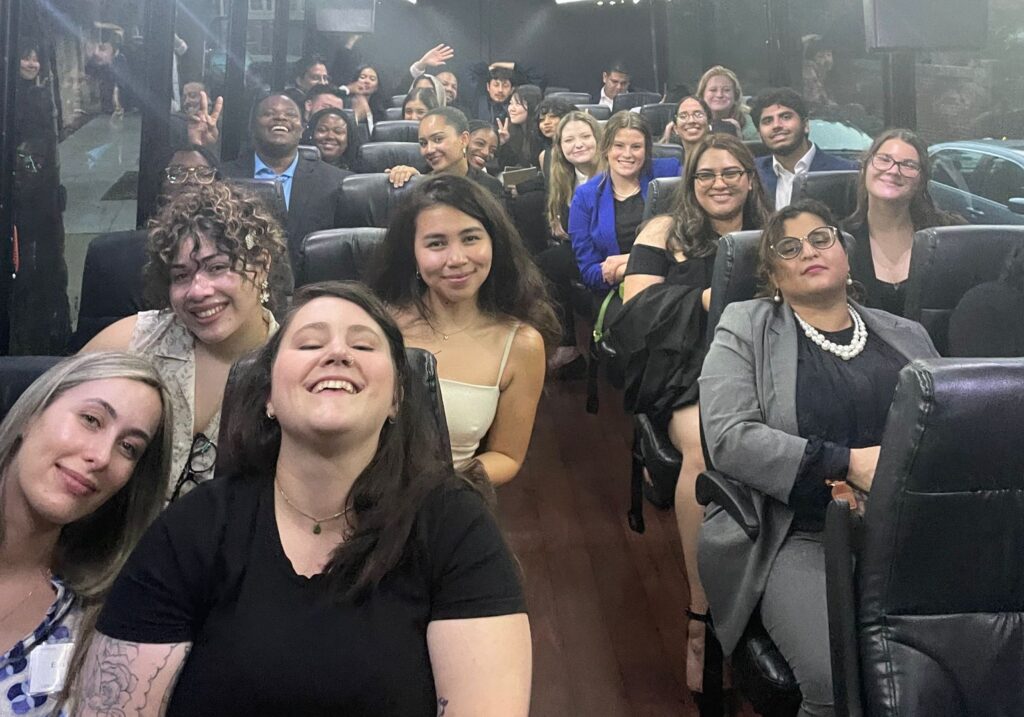 Beyond theoretical understandings, the CCGAF journey delved into the human aspects of global
affairs. Conversations with diplomats, policymakers, and UN representatives unveiled the
intricate challenges faced by nations worldwide. These dialogues revealed that international
relations encompass more than power dynamics and policies; they entail profound impacts on
people's lives. This epiphany redefined my comprehension of global issues, underscoring the
significance of empathy and compassion in fostering international collaboration.

The CCGAF proved to be an exhilarating journey. Amidst the hustle of swiftly transitioning
between gatherings with dignitaries and esteemed organizations, we found moments of respite
through mini-concerts featuring the electrifying performances of Bad Bunny and the soulful
melodies of Dammi Falastini. From elegant boat dinners to immersive simulations and grand
mansion meetings, we delved deep into the multifaceted realm of foreign policy. At the close of
each eventful day filled with networking, our culinary choices ranged from cold pizza and
delectable Jordanian sweets to the vibrant offerings of DC street food.

Yet, what truly left an indelible mark was the profound connection cultivated among fellow
participants. This bond effortlessly transcended the confines of geography and cultural
disparities. Through the CCGAF experience, I came to realize that the essence of family extends
beyond mere blood ties, finding its anchor in shared dreams and aspirations.

The CCGAF community exemplifies this truth, unveiling the importance of shared narratives.
This community reshaped my perspective, banishing the shadows of shame from my story. It
revealed that scars can narrate tales of resilience, inspiring others in the process. A repository of
wisdom, this community transformed the trajectory of my personal and professional life,
equipping me with tools and, more significantly, nurturing an unwavering belief in my intrinsic
worth. Amid this transformative journey, our guiding star is community – the bedrock of our
lived experience. Within this nine-letter haven, we embraced diversity, stood resolute, and found
a true sense of belonging.
Uzair Pasta is a First Generation Pakistani-American. He just recently graduated from El Camino College (ECC) where he got an associate in Business Administration and Economics with a focus on public policy. During his time at ECC, he served as the Associated Student Organization's Director of Finance, the Co-Captain of the Speech & Debate team, and the President of the Muslim Student Association, where he has advocated for students and underserved communities. His ultimate goal is to study International and Islamic law where he can support those who can not speak out for themselves, as well as provide legal literacy to his Muslim community. Currently, Mr. Pasta will be taking a Gap year where he will complete his religious studies by committing the entire Quran to memory and is set to transfer in the Fall of 2024. He hopes to incorporate empathy, compassion, and faith into his advocacy work.